All Those Food Market
September 16, 2017 @ 11:00 am

-

September 17, 2017 @ 8:00 pm

€2
A special edition of the new culinary artisans market
All Those, the platform that promotes the new culinary entrepreneurs, will celebrate its next edition of their popular market in the iconic Teatre Nacional de Catalunya on September 16th and 17th.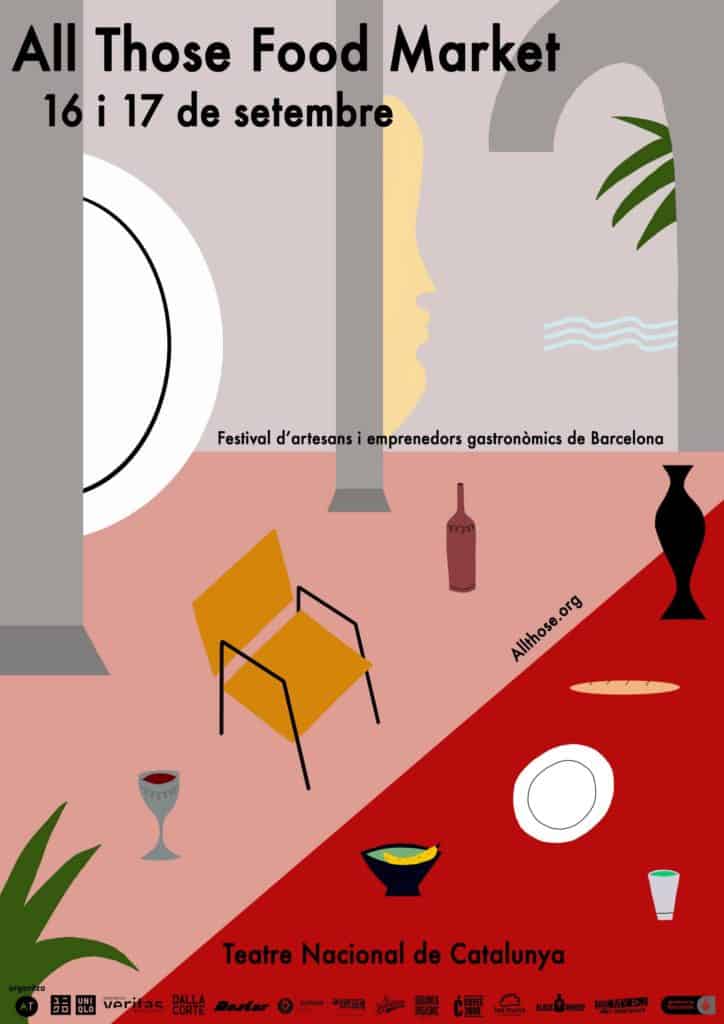 NEW EDITION IN Teatre Nacional de Catalunya
All Those keeps connecting the independent culinary culture with unique urban spaces. In each edition of their artisan festival they go a step a forward defining the concept of Food Market.
Their concept – combining a selection of chefs preparing quality street food, artisan and local food, wine and beer from small producers and culinary workshops – will take place on September 16th and 17th nearby Les Glòries square, in the emblematic national theatre: Teatre Nacional de Catalunya.
JAPANESE SPECIAL EDITION
September's food market will present a Japanese Special Edition, where several projects will bring Japanese flavors to the market, such as the dishes by chef Kenji Ueno (from Aiueno and Can Kenji restaurants), workshops to learn to prepare a traditional Japanese bento with Wo.kitchen or a tea Matcha with Tetere. Pear wasabi and miso apricot jams by La Madre de Miren, mochis by Niji, cold ramen by Grasshopper Ramen Bar or Janagui, Santoku and Usuba Japanese knives by Pallarès Solsona, are some of the examples.
WORKSHOPS
This new event will offer many culinary activities, following the success of the previous edition: workshops to learn to make sourdough at home (Bonsfocs), brew craft beer in your own kitchen (Family Beer) or become vermouth experts (La Vermutería Pop Up). As in all the previous editions, this event keeps offering free workshops for kids, where they will learn the benefits of seasonal and local food. You can check the full program at the following link: tienda.allthose.org
MAIN PROJECTS
The market will count with some of the most significant current food projects like Delacrem ice creams, El Sifó d'en Garriga (the new side project of La Cuina d'en Garriga), raw milk cheeses by Mas d'Eroles, Formatges l'Oliva and Le Bolut, smoked delicacies by Rooftop Smokehouse or the artisan doughnuts by La Donuteria.
LOCAL BEVERAGES
The food market will feature three craft beer projects – Cyclic Beer Farm, Garage Beer Co and Barcino – wine by Organic&Orgasmic and Cuvée 3000, kombucha by Kombutxa.cat, vermouth by El Bandarra, lemonade by Linda Limón and specialty coffee by Nomad Coffee, Satan's Coffee Corner and Skye Coffee.
MUSIC AND THEATER
Last but not least, this autumnal edition will coincide with the Festa Major del Poblenou (Poblenou local festivities), and will count on live music by BeMyDj and the classic grand piano will be brought by Concurs Internacional de Música Maria Canals. We will also enjoy some surprise concerts and theater performances during the whole weekend.
September Saturday 16th and Sunday 17th
Saturday: 11am – 11 pm
Sunday: 11 am – 8 pm
Teatre Nacional de Catalunya
Plaça de les Arts, 1
Barcelona
More information:
allthose.org
facebook.com/allthosecommunity