2017 English AeroPress Championship
September 16, 2017 @ 4:00 pm

-

10:00 pm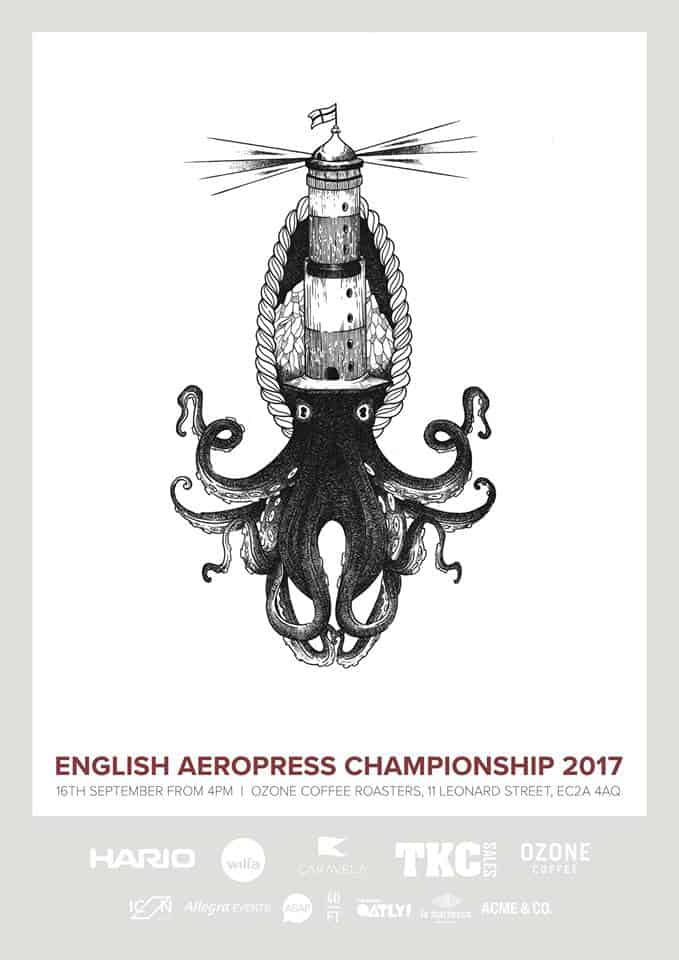 *TICKETS ON SALE 24TH JULY – 9AM*
England, it's time to shine! It's the England Aeropress Championships!
Get those wrists at the ready! Competition tickets will be on sale from Monday 24th July, right here, on this page, from 9am. The digital stampede will be epic so please share the competing love by restricting purchases to 2 per company.
Spectator / crowd / super fan registration will also open on Monday 24th July – check back here for the hot link.
PRESS WHAT?
You probably already know that an Aeropress isn't a type of fancy chocolate or in-flight brochure. If you don't (bit awks for you there), go here when no one is looking.
NOW THEN…
Forget #legday. We know you've been hitting the weights at the gym, working on those biceps and getting ready to flex your guns at the 2017 English Aeropress Champs. Ozone Coffee Roasters are thrilled to announce that we will be hosting this year's event. We got this.
It all started back in '08, when brought to the (cupping) table by Tim Varney and hosted by Tim Wendleboe. It has since grown to be the most unique, fast-paced and (probably) fun coffee event in the industry's calendar.
WHAT'S IN IT FOR YOU?
Glory. Everlasting glory. More tangibly, you'll receive the shiny gold Aeropress of your dreams and flights to Seoul to compete in the World Aeropress Championships 9-12th November with accommodation included. Second place will win a Commandante hand grinder and third place will receive a Wilfa grinder.
IMPORTANT STUFF
Entry fee is £25 per person.
There will be a total of 23 people competing; 3 people per round over the course of 7 knock-out rounds.
Regional winners will automatically be entered into the quarter-finals.
Essential competitor briefing is at 4.30pm, though we recommend arriving when doors open at 4pm to allow plenty of time for trash talk/practise.
Competitors must produce a minimum of 200ml coffee.
No modifications to be made to the Aeropress. Any type of filter permitted.
Full rules can be found on the WAC website.
EQUIPMENT
Word on the street is that baristas are pretty fussy about brewing equipment, so you're welcome to bring any of your own kit. The only part you don't have free reign over is the vessel in which you will be serving; a WAC standard, 260ml Acme cupping bowl.
On the day, we will have the following for use during the competition. You break, you buy. (Kidding. Sort of.)
Grinders: EK43 or Wilfa
Scales: Hario
Servers Hario
Water: Cold RO water at a TDS of 90 PPM will be available.
Kettles: Hario temperature control kettle
COFFEE
You'll receive coffee roasted by Ozone and supplied by Caravela on Friday 1st September, allowing plenty of time to nail your recipe. Paper filter or cloth? Golden ratio or your own crazy ratio? Options a-plenty.
Coffee on the day will be provided and we'll make sure it's at optimum age for drinking. You will be required to use this coffee for the competition.
NOT COFFEE
We know you're not just there for the brews; there will be beer from our mates at 40FT brewery, wines from our friends down the road at Passionevino. Our incredible chefs will be serving up tasty eats all day so you can line your stomach before a coffee/booze OD occurs. Bring your party clothes for entertainment and after party from 9pm – 11pm.
JUDGES
A selection of the UK's finest will take it in turns to judge rounds:
Joanna Lawson – Caravela Coffee
Rudy Huemer – Union Hand Roasted
Jamie Treby – Taylor Street Baristas
Freda Yuan – Caravan Coffee Roasters
Estelle Bright – La Marzocco
Courtney Snowdon (Head Judge) – Ozone Coffee Roasters
TRAVEL
Our Roastery & Eatery is located a two-minute walk from Old Street tube station, which is accessible by both the Northern Line and National Rail.
CONTACT
If you have any questions or want a motivational pep talk (not guaranteed), send Vanessa an email – vanessa@ozonecoffee.co.uk.
LAST BUT NOT LEAST
We raise our glass way up high to the following businesses who are helping make this happen for the greater good of London and the world!…ok, mainly for you the competitors but also for the greater good of London and the world.
TKC
Caravela Coffee
40FT Brewery
Hario
Wilfa
ASAP
Allegra
Oatly
La Marzocco
Sherborne
Acme & Co
Icon Printing