2017 AeroPress Final Lyon (France)
September 17, 2017 @ 1:00 pm

-

10:00 pm
96 au départ, 2 mois de qualifications dans 10 coffeeshops partout en France.
Ils ne sont plus que 21 Aeropressers à prétendre au titre !
Qui sera le ou la prochaine Championne de France Aeropress 2017 ?
Qui partira en novembre à Séoul (Corée du Sud) représenter la France aux Mondiaux d'Aeropress (World AeroPress Championship) !!
L'évènement de cette finale est gratuit et ouvert à tout. On vous attend dimanche 17 septembre, à partir de 14 jusqu'en débutde soirée
Ça se passe à Away Hostel & Coffee Shop
Merci
à nos sponsors: BWT water + more France, Art Of Coffee et Hexagone Café (sponsor-torréfacteur)
à notre partenaire média: Gourmet Cup Magazine
et à Away Hostel & Coffee Shop qui nous héberge pour cette finale 2017
#AeropressRBF17 #GoFrenchAeropress #Aeropress #TeamAeropressFR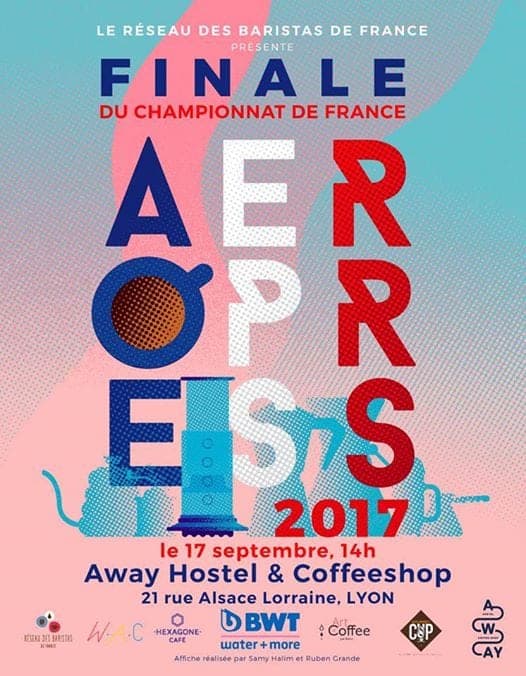 96 at the start, 2 months of qualifications in 10 coffeeshops throughout France.
They are now only 21 Aeropressers to claim the title!
Who will be the next Champion of France Aeropress 2017?
Who will leave in November to Seoul (South Korea) to represent France in the World of Aeropress (World AeroPress Championship)?
The event of this final is free and open to everyone. We are waiting for you Sunday 17th September, from 14 until the beginning of the evening. It happens at Away Hostel & Coffee Shop.
Thank you
To our sponsors: BWT water + more France, Art Of Coffee and Hexagone Café (sponsor-roaster)
To our media partner: Gourmet Cup Magazine
And at Away Hostel & Coffee Shop hosting us for this 2017 final
# AeropressRBF17 #GoFrenchAeropress #Aeropress #TeamAeropressEN